Date: 1 October 2023
Convair - 220 Amateur Radio Club Home Page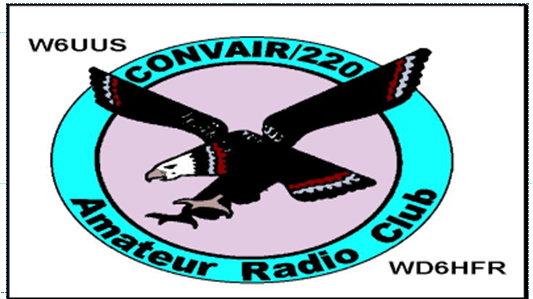 Welcome to the Convair - 220 Amateur Radio Club Web Page.... simple though it may be, we call it home!
---
The Convair - 220 Amateur Radio Club (C-220 ARC) is the amalgamation of the Convair Amateur Radio club formerly sponsored by the General Dynamics - Convair recreation fund and the 220 Club of San Diego. The C-220 ARC is an ARRL affiliated general interest amateur radio club with a wide variety of interests both technical and non-technical. The club has had a long history of involvement with the San Diego Amateur Radio Emergency Service (ARES) and other public service groups. The Club regularly participates in the American Radio Relay League (ARRL) Field Day by setting up a simulated emergency communications station callsign W6UUS at a city park (recently Hilltop Park in Rancho Penasquitos) during the fourth full weekend of June to make contacts, practice emergency communcations set-up, but most of all have fellowship and fun!

The C-220 ARC holds monthly meetings where guests are always welcome at the Kearny Mesa Recreation Center, 3170 Armstrong St., San Diego, CA on the second Thursday of the month at 1800 PST/PDT. The Meeting consists of meet and greet, business, club officer reports, mentoring, and a relevant program.

The C-220 ARC operates a 220 SMA coordinated repeater callsign WD6HFR atop Mount Palomar serving San Diego county from the Mexico border to Camp Pendleton. The repeater operates on 224.90 MHz - minus off-set, and PL of 107.2 Hz. All are welcome to join us on our weekly club net on the repeater at 1930 PST/PDT on Monday evenings. The net offers Club officers an opportunity to make announcements, ARRL bulletins to be read and rag-chew discussions between members, especially during the no host round-table after the roll call. This net also serves as the QCWA Chapter 14 weekly voice net.

The club repeater also hosts the weekly San Diego ARES special activities digital net commencing at about 0915 PST/PDT on Sundays. Voice coordination and mentoring are conducted on the repeater and digital traffic is sent and received on 3572 or 7072 kHz (depending on propagation). The repeater is available to support amateur radio public service activities. Please contact k1ct@arrl.net to coordinate.

We hold weekly coffee klatch meetings known as the Bored Meeting which have convened for decades on Fridays at 1500 (3 pm local time) at the Clairemont Square McDonalds (across the street from the fire station and the post office). Club members and interested hams are invited to join us for informal sometimes ham radio related chit-chat, mentoring and coffee drinking.

The Club has a new address for snail mail correspondence (dues and such): Convair - 220 ARC, 3952 D Clairemont Mesa Blvd., PMB 436, San Diego, CA 92117

An application form for new or renewal club memberships can be found here: Application Form

Convair - 220 Amateur Radio Club Field Day Participants Group Photo

---

Related Links:

Library of club newsletters "CONTRAILS" The newsletters contain information about club activities, meetings, programs and pictures of those activities.